Count Their Blessings



Next

Previous

Airdate

Written by

Bridget Newson
Count Their Blessings
is the second episode of season 1 in
The Berenstain Bears
, which aired on January 7, 2003. In this episode, Brother and Sister grow jealous of what their friends have and asks Mama and Papa to get them the same things. They then learn to be grateful for what they have as a thunderstorm rolls in.
Summary
Brother and Sister often complain that their friends have more things than they do. Mama and Papa tell them they should be thankful for all the things they do have. When a big thunderstorm rages outside and the power goes out, the cubs are reminded of how fortunate they are to have loving parents and a cozy home to live in. It's a good time to count their blessings.
Plot
Sister is playing Bearbies in the backyard until Lizzy Bruin comes and shows Sister her new bearbie and asks Sister if she wants to come play with her. Mama says she can and Sister complains that Lizzie has a ton of bearbies and she only has one. Mama tells Papa she is tired of it and Papa agrees with her and says Brother is no different. Later Brother leaves Freddie's house when he sees Storm clouds and sister leaves Lizzie's. When they get home They complain again and Mama and Papa tell them they need to be thankful for the things they DO have. Then the power goes out. They put a fire in the fireplace and talk more about their blessings and Papa says the lightning is 1 mile away every five seconds you count between it and they Thunder. For dinner, we all have peanut butter sandwiches together. Then Sister and Brother go to bed and the power comes back on.
Differences From the Book
The book began with Sister asking Mama if she could go visit Lizzy. In the episode, Sister was already at Lizzy's house.
In the book, Brother and Sister manage to get home before the rain started. In the episode, it rained as they made their way up the dirt road.
Near the end of the book, Brother was playing his GameBear video game while Sister went to play with her dolls.
Goofs
When Papa comes into the house he leaves the door open, But a minute later it is closed.
When Brother and Sister are counting together, Brother's mouth does not move although he is heard.
Dinner: peanut butter sandwich, cottage cheese, apples, water, and carrots
Gallery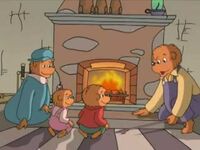 Ad blocker interference detected!
Wikia is a free-to-use site that makes money from advertising. We have a modified experience for viewers using ad blockers

Wikia is not accessible if you've made further modifications. Remove the custom ad blocker rule(s) and the page will load as expected.