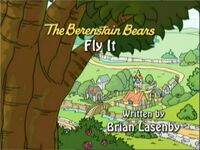 Summary
Brother and Freddy team up to try and create an innovative flying device for their fifth grade science project. Their hopes are dashed after a series of unsuccessful test flights and they decide to give up on the whole notion of being inventors. After having a talk with veteran inventor, Professor Actual Factual, the two cubs are encouraged to keep trying and ultimately they succeed in making a balloon-propelled aircraft that impresses the entire class.
Differences From the Book
In the book, the story was focusing on Brother and Sister. In the cartoon, the story was focusing on Brother.
Ad blocker interference detected!
Wikia is a free-to-use site that makes money from advertising. We have a modified experience for viewers using ad blockers

Wikia is not accessible if you've made further modifications. Remove the custom ad blocker rule(s) and the page will load as expected.