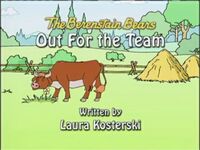 Summary
Brother and Sister are good baseball players and both sign up to try out for the Bear Country Cardinals. The problem is, there's only one position left on the team. Worried about the humiliating possibility of losing to his talented kid sister, Brother backs out of the competition. Sister has some encouraging words for Brother which inspire him to stick with it. The two cubs practice for the big tryout together.  
Differences From the Book
In the book, Brother and Sister were wearing baseball clothes while they were playing baseball. In the TV episode, they were just wearing baseball caps.
Ad blocker interference detected!
Wikia is a free-to-use site that makes money from advertising. We have a modified experience for viewers using ad blockers

Wikia is not accessible if you've made further modifications. Remove the custom ad blocker rule(s) and the page will load as expected.