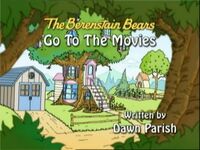 Summary
When Mama decides the Bear Family needs to spend more quality time together, all that can be managed is a movie night. Although silently staring at a movie screen isn't Mama's idea of 'quality time together', it's all the Bear Family's busy schedules will allow. Unfortunately, most of their movie night is spent just trying to get to the theatre, and inevitably, between a spooky detour to Squire's Mansion, running out of gas on a dark country road, etc. they arrive too late to see the film. Nevertheless, they realize that all their mishaps getting to the theater have provided the members of the Bear Family with a wonderful, fun filled evening of adventure. And the best part about it was they enjoyed it together as a family.
Ad blocker interference detected!
Wikia is a free-to-use site that makes money from advertising. We have a modified experience for viewers using ad blockers

Wikia is not accessible if you've made further modifications. Remove the custom ad blocker rule(s) and the page will load as expected.