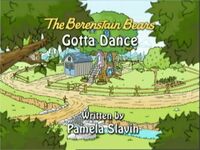 Summary
The Bear Country Spring Fling is coming up and Mama and Papa are going to kick it off with a dance demonstration. But Papa is so busy building the stage that he doesn't have time to practice with Mama, so she conscripts Brother as her dance practice partner. There's only one catch - Brother can't dance and doesn't even want to try because he feels he'll look silly. But thanks to Mama, Brother learns that dance moves are a lot like sports moves which he's more than capable of and comfortable with - so much so that Brother fills in for Papa in the real dance demonstration.
Watch Episode
Gallery
Ad blocker interference detected!
Wikia is a free-to-use site that makes money from advertising. We have a modified experience for viewers using ad blockers

Wikia is not accessible if you've made further modifications. Remove the custom ad blocker rule(s) and the page will load as expected.