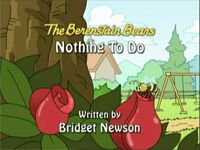 Summary
Mama finds Brother and Sister sad and grumpy because they have nothing to do. She suggests a number of entertaining things, but the cubs reject each one in turn. Not wanting them to suffer from boredom any longer, Mama finds jobs that need to be done around the house. All of a sudden the cubs have a change of heart; the entertaining things she suggested earlier now sound pretty good. However, seeing Mama and Papa working so hard compels Brother and Sister to roll up their sleeves and help with the work.
Watch Episode
Gallery
Ad blocker interference detected!
Wikia is a free-to-use site that makes money from advertising. We have a modified experience for viewers using ad blockers

Wikia is not accessible if you've made further modifications. Remove the custom ad blocker rule(s) and the page will load as expected.