The Bear Detectives

'
Author/s
Stan and Jan Berenstain
Publisher
Random House
Publication date
September 12, 1975
Media type
Hardcover
Pages
48
ISBN
0394831276
Summary
When Farmer Ben's blue ribbon pumpkin is missing, Papa and the Bear Detectives try to find it. During their search, they come to several dead ends, including a haystack and a pig pen.[1]
Publication history
1975, Random House (Hardcover)=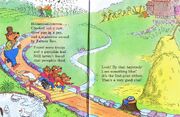 Ad blocker interference detected!
Wikia is a free-to-use site that makes money from advertising. We have a modified experience for viewers using ad blockers

Wikia is not accessible if you've made further modifications. Remove the custom ad blocker rule(s) and the page will load as expected.