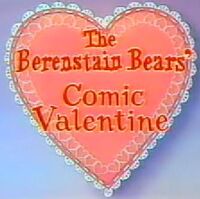 The Berenstain Bears' Valentine Special (A.K.A The Berenstain Bears' Comic Valentine and The Berenstain Bears and Cupid's Surprise) is a 1982 Valentine television special based on the Berenstain Bears series of children's books, and the twenty-sixth animated production based on the franchise.
Synopsis
Brother Bear gets a valentine from a secret admirer.
Cast
Narrator (Ron McLarty)
Papa Bear (Brian Cummings)
Mama Bear (Ruth Buzzi)
Sister Bear (Christina Lange)
Brother Bear (David Mendenhall)
Cousin Freddy (Josh Rodine)
Lizzy Bruin (Ruth Buzzi)
Too-Tall (Zachary Danziger)
Bill Bunny (Zachary Danziger)
Benjamin Frog (Zachary Danziger)
Firefly (Zachary Danziger)
Pru (Ruth Buzzi)
Sue (Ruth Buzzi)
Pam (Ruth Buzzi)
Sailor (Frank Welker)
Turtle (Frank Welker)
Smirk (Frank Welker)
Skuzz (Frank Welker)
Vinnie (Frank Welker)
Honey Bear (Christina Lange)
Raffish Ralph (Frank Welker)
Weasel McGreed (Frank Welker)
Henchweasels (Frank Welker)
Bigpaw (Brian Cummings)
Mayor Honeypot (Brian Cummings)
Professor Actual Factual (Brian Cummings)
Grizzly Gramps (Frank Welker)
Grizzly Gran (Ruth Buzzi)
Grizzly Gus (Josh Rodine)
Farmer Ben (Frank Welker)
Miss Bearson (Ruth Buzzi)
Charlene (Gabriela Glazter)
Trivia
This is Charlene's only appearance.
Ad blocker interference detected!
Wikia is a free-to-use site that makes money from advertising. We have a modified experience for viewers using ad blockers

Wikia is not accessible if you've made further modifications. Remove the custom ad blocker rule(s) and the page will load as expected.