The Berenstain Bears Count their Blessings (2003 Series)
Talk

0
Share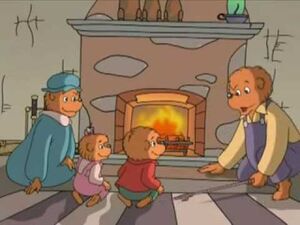 Write the text of your article here!
Sister is playing Bearbies in the backyard until Lizzie Bruin comes and shows Sister her new bearbie and asks Sister if she wants to come play with her. Mama says she can and Sister complains that Lizzie has a ton of bearbies and she only has one. Mama tells Papa she is tired of it and Papa agrees with her and says Brother is no different. Later Brother leaves Freddie's house when he sees Storm clouds and sister leaves Lizzie's. When they get home They complain again and Mama and Papa tell them they need to be thankful for the things they DO have. Then the power goes out. They put a fire in the fireplace and talk more about their blessings and Papa says the lightning is 1 mile away every five seconds you count between it and they Thunder. For dinner, we all have peanut butter sandwiches together. Then Sister and Brother go to bed and the power comes back on.
Goofs
When Papa comes into the house he leaves the door open, But a minute later it is closed.
When Brother and Sister are counting together, Brother's mouth does not move although he is heard.
Dinner: peanut butter sandwich, cottage cheese, apples, water, and carrots
Ad blocker interference detected!
Wikia is a free-to-use site that makes money from advertising. We have a modified experience for viewers using ad blockers

Wikia is not accessible if you've made further modifications. Remove the custom ad blocker rule(s) and the page will load as expected.