The Berenstain Bears Learn About Strangers (TV special)
Talk

0
Share
The Berenstain Bears Learn About Strangers is a 1980 television special based on the Berenstain Bears series of children's books, and the fifth animated production based on the franchise. It was adapted as a storybook a year its original airing.
Synopsis
After Papa Bear explains about the rules with strangers, Brother decides to only talk to strangers with radio-controlled airplanes and Sister is suddenly scared of everything, viewing all strangers as ominous. But soon, Mama Bear brings some reassuring common sense to the problem, and resolves the children's disputes.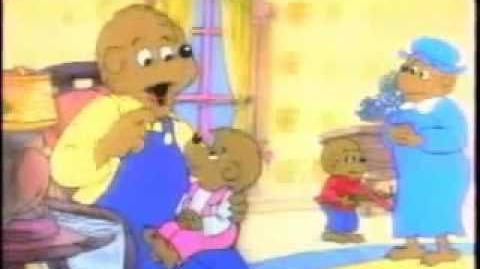 Cast
Ron McLarty - Papa Bear
Pat Lysinger - Mama Bear
Gabriela Glazter - Sister Bear
Johnathan Lewis - Brother Bear
Zachary Danziger - Mr. Painter
Frank Welker - Mr. Truck Driver
Brian Cummings - Mr. Jogger
Josh Rodine - Raido-Control Man
Trivia
This marks the only appearances of Mr. Painter, Mr. Truck Driver, Mr. Jogger and Radio-Control Man.
Ad blocker interference detected!
Wikia is a free-to-use site that makes money from advertising. We have a modified experience for viewers using ad blockers

Wikia is not accessible if you've made further modifications. Remove the custom ad blocker rule(s) and the page will load as expected.