The Berenstain Bears Save the Bees is the 32nd episode in the Berenstain Bears 1985 series.
Synopsis
An Arch Weasel created an ultimate weapon to take down Bear Country. Raffish Ralph is chosen by thr Arch Weasel to trick Mama Bear into planting this thing. They unleash a field of menacing honey bell flowers that threaten Bear Country's supply of honey, by engulfing all bees.
Cast
Brian Cummings - Papa Bear, Mayor Honeypot
Ruth Buzzi - Mama Bear, Mayor's Assistant
Christina Lange - Sister Bear
David Mendenhall - Brother Bear
Frank Welker - Weasel McGreed, Raffish Ralph, Professor Actual Factual
Watch Episode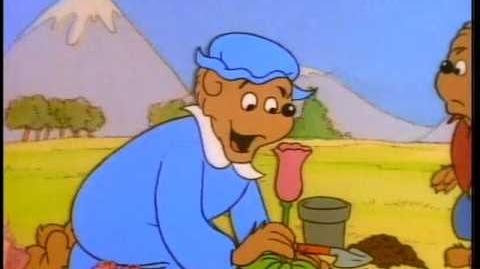 Trivia
This marks the first appearances of the Henchweasels, Pru, Sue and Pam.
This marks the first appearances of Professor Actual Factual, Farmer Ben and Miss Bearson in this television special.
Ad blocker interference detected!
Wikia is a free-to-use site that makes money from advertising. We have a modified experience for viewers using ad blockers

Wikia is not accessible if you've made further modifications. Remove the custom ad blocker rule(s) and the page will load as expected.