The Berenstain Bears and the Excuse Note
Talk

0
Share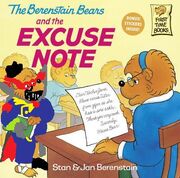 The Berenstain Bears and the Excuse Note is a book that was published in September 4, 2001.
PLOT
Too-Tall brings up those invitations to Too-Tall's gang, but he walks after the gym class. An invitation goes to the Bear Country School, Suddenly Teacher Jane reads the present list for her birthday party. Sister, Brother, Fred, Lizzy, Ferdy, Tiger, Holly, Pek, Sabby, Kipper and Queenie take to school. Queenie told to Harry but she asks Holly and Too-Tall and maybe he asks Tiger, Pek, Sabby and Kipper. They play exercise for gym class, but Too-Tall had a duck walk and Teacher Jane goes to get Too-Tall's present. She finds Harry's rabbit, Queenie's guinea pigs, Tiger, Holly, Pek, Sabby, Kipper and Ferdy's mouse, Fred, Lizzy, Brother and Sister's gerbil but She found a hamster named Roly-Poly.
But Roly-Poly eats the gerbil food, She sprains her ankle and make that cast feel better when Brother asks. Queenie finds up those guinea pigs also Too-Tall got his duck walk radio and Too-Tall's present, They had to dance when Harry gets the rabbit, Teacher Jane likes to eat cereal with Roly-Poly, they will go and buy paper to wrap Too-Tall's cage. Too-Tall can do the Roly-Poly, her ankle gets better when Mama's talking about for gym. Teacher Jane comes to a birthday party with Brother Bear and Sister Bear, She rings the doorbell, but Roly-poly got a bowtie. Too-Tall's presents are also pets for Harry, Queenie, Tiger, Holly, Pek, Sabby, Kipper, Ferdy, Fred, Lizzy, Brother and Sister. but she plays piano and also Roly-Poly eats a cracker.
CAST
TRIVIA
This marks the only appearances of Too-Tall's Gang.
This marks the last appearance of Harry McGill.
This is the last time Too-Tall has a sprain ankle.
Ad blocker interference detected!
Wikia is a free-to-use site that makes money from advertising. We have a modified experience for viewers using ad blockers

Wikia is not accessible if you've made further modifications. Remove the custom ad blocker rule(s) and the page will load as expected.