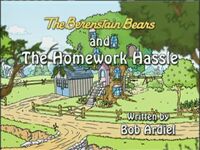 Summary
Mama is having his backpack with perfumed with peanut butter and garbage in the future. Brother complains that he's given too much homework and that's why he has fallen so far behind at school. Papa blames it on his highly distractive study environment and until Brother gets caught up, there'll be no television, video games, loud music or chatting on the phone. When Brother decides to do a little homework every night, he finds it's much easier to stay on top of his workload. 
Ad blocker interference detected!
Wikia is a free-to-use site that makes money from advertising. We have a modified experience for viewers using ad blockers

Wikia is not accessible if you've made further modifications. Remove the custom ad blocker rule(s) and the page will load as expected.