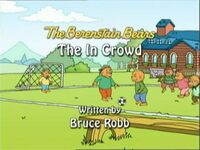 Summary
When a snooty new girl with a snazzy new mountain bike and all the latest fashions moves into town, Sister finds herself torn between practicing for the upcoming Double-Dutch contest and trying to fit in with the new girl's In-Crowd. Sister finally decides to hang up her beloved skipping rope and starts dressing and acting like the others. However, although her new clothes help Sister fit in with the In-Crowd, seeing herself in them makes her realize that she's trying to be something she's not and she decides, once and for all, that she likes her pink jumper, she likes her hair ribbon, she likes her Double-Dutch and most of all, she likes herself just the way she is.
Differences From the Book
In the cartoon, Queenie is one of Sister's friends and Hillary is the snooty girl. In the book, Queenie is the snooty girl, while Hilary never appears.
There is no double dutch championship in in the cartoon, but there is one in the book.
Sister realized the importance of her uniqueness earlier in the book than in the cartoon. Mama suggested buying Sister clothes like Queenie's, but Sister says the clothes she has reflect herself.
In the book, Sister still rode her tricycle which made her a target of jokes. She tried to get back at this by using Brother's bike to think she could ride circles around Queenie, but failed as she had not yet taken bicycle lessons. Mama sees this and figures Sister's failed bike lesson had something to do with Queenie.
The treat at the dairy bear was soft ice cream, but in the cartoon. It was frozen yogurt.